Guide to a better recycling in Switzerland
Batmaid
May 2nd at 6:31pm
In Switzerland, more than 94% of used glass is recycled. Glass recycling requires 25% less energy than the usual production from quartz sand.
And yet, littering continues to have an impact on the environment, a phenomenon that costs the Confederation more than CHF 200 million a year.
What can be recycled?
Batmaid offers you a non-exhaustive list of waste that can be found at home, and can be taken to collection points for recycling.
If you want to try out a zero waste lifestyle, check out our article to see just how to go about it.
Don't know where to bring your recyclable waste? Thanks to the Recycling-Map, you can easily find the nearest collection points near you.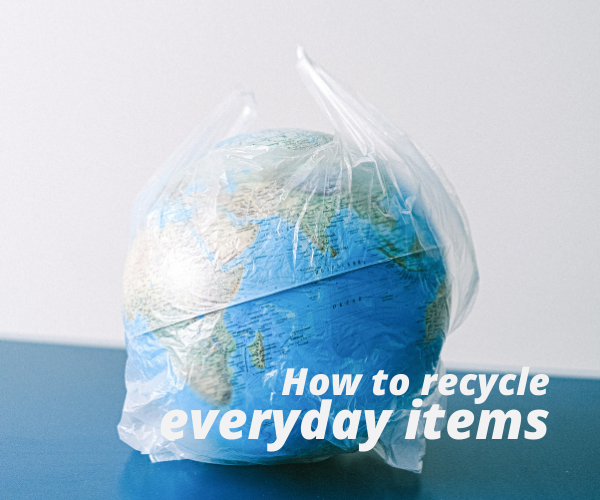 Organic substances
Instead of throwing away your peels and other food scraps, think compost! Organic matter can be transformed into rich soil for gardens or plants.
You will soon be able to read a detailed article on the creation of homemade compost!
Oils
Be careful not to mix cooking oil with mineral oil (from petrol and coal). The latter is very harmful to the environment. Both are recoverable, only if they are stored in different containers and dropped at collection points.
Paper and cardboard
It is not necessary to separate paper from cardboard! Anything can mix, just make sure not to recycle the cardboard from frozen packaging (they are covered with wax) and wet cardboard. Also, you don't need to remove the plastic window from your envelopes. Same thing goes for the staples of your documents!
Glass
Glass remains glass as the Vetroswiss slogan says. Glass can be remelted and reused! Remember to remove the caps that are made of aluminium or iron.
Be careful, however, as some glass cannot be mixed with your jars or bottles. Do not throw the following items in the same garbage bins:
Broken windows
Mirrors, because of the reflective surface that cannot be recycled like glass
Ceramics and porcelain, because the melting temperature is much higher than for the glass
Drinking glasses that are made from lead oxide, a harmful material that cannot be recycled

PET beverage bottles
The PET recycling process is simple and many Swiss people (83%) already recycle their bottles.
Flatten them to make them smaller. This will reduce the number of trips needed to get them to recycling sites.
To go even further, reduce your consumption by investing in a reusable water bottle and fill it with tap water. Soon, you will find all of our tips for a more ecological and environment-friendly way of life on our blog.
And how are PET bottles recycled?
We found a short video for you that explains why PET beverage bottles should not be mixed with other bottles.
Plastic material
Unlike PET, PE bottles are made of white plastic (milk, cream or yoghurt drinks, etc.). These can also be recycled, but they are separated from PET bottles.
Tinplate / sheet steel
Tinplate is used to produce cans, and it's recyclable! Don't waste time cleaning them, the recycling temperature is so high that paper and food scraps will disintegrate on their own.
Aluminium coffee capsules
Recycling coffee capsules has several benefits! Aluminium recycling makes it possible to produce new capsules. And as far as coffee grounds are concerned, they have an energy potential 3 to 5 times higher than wood in addition to being a very good fertilizer!
And if you are interested in recycling coffee capsules, here is a short video detailing the process.
Aluminium
Aluminium is present everywhere, in the form of leaves, trays (especially those for our animal friends), cans, tubes (mustard or mayonnaise for example).
If you have a doubt between tinplate and aluminium, it doesn't matter! Recycling plants, with their huge magnets, can separate the two.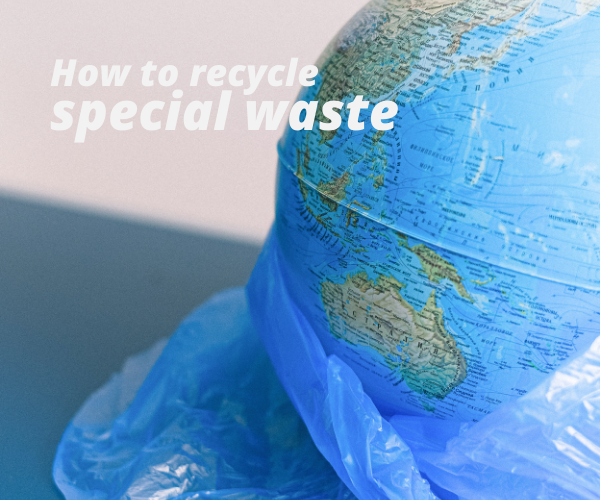 Special waste
Like chemicals, medicines are very harmful to the environment. Do not flush them down the toilet, think of the fish in the lakes and the people who drink groundwater. If you no longer need your medication, the best thing to do is to bring it back to the pharmacy.
Textiles and shoes
Your old clothes don't deserve to be thrown in the garbage! Remember to bring them back to the store (for example to the Coop or the Migros. You can also drop them off at collection points so that charities can redistribute them to people in need.
Think, for example, of TEXAID, which collects about 40,000 tonnes of used textiles each year for associations such as the Swiss Red Cross, die Schweizer Winterhilfe or Kolping Switzerland.
Electronic and electrical equipment
The Anticipated Recycling Tax (ATR) is a tax that was introduced in 2003 to finance the recycling of electrical and electronic equipment. It is included in the sale price. As a result, anyone can drop off their devices at collection points for transport and recycling.
Light sources
Because they contain many products that are harmful for the environment, along with electronics, lamps must be brought back to the stores where they are purchased in order to be recycled.
Batteries and accumulators
Batteries are very harmful to the environment and should not be thrown in the garbage. Unlike what you might think, there are no "green" ones. Even the most ecological batteries contain products that are dangerous for the planet. Incineration will not make them disappear and everything will end up in the air, soil and water.
It is necessary to recycle; if we do not do it, nature itself will have to do it.
To learn even more about recycling waste, read our post about composting.
How does Batmaid contribute to a greener tomorrow?
At Batmaid, we try our best to contribute to a healthier planet.
Our company is tech-based, which means we significantly reduce our paper waste in comparison to more traditional companies.
We are currently developing a line of eco-friendly cleaning supplies, which will be launched soon. 🌱
Experienced Batmaids will happily take out your recycling. Visit our booking page to find out more!