The Ultimate Spring Cleaning Guide: Windows, Oven Cleaning, Carpets, and More!
Batmaid
April 13th at 8:56am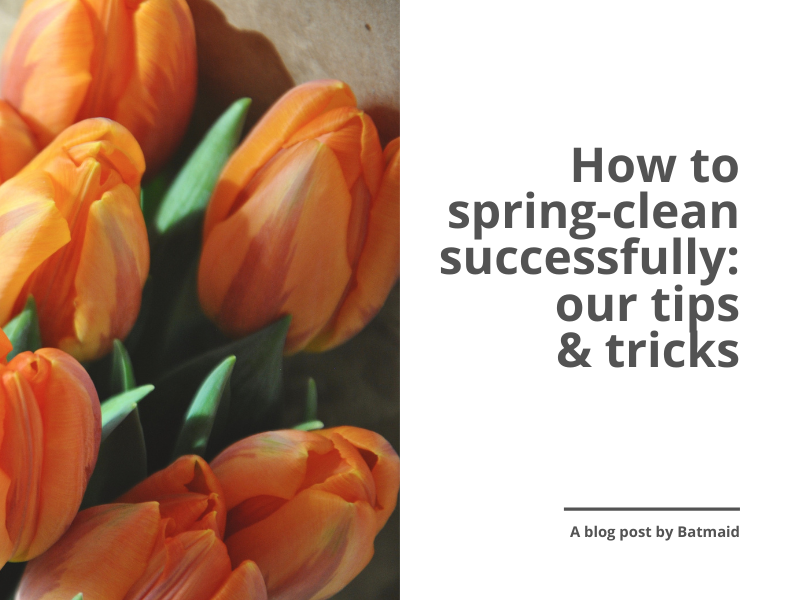 Spring has finally arrived, and it's the perfect time to give your home a thorough cleaning. As the season of renewal and growth, spring is an opportunity to refresh your living space and enjoy a clean, organized environment.
In this blog post, we'll provide valuable tips on essential spring cleaning tasks, including windows, oven cleaning, carpet care, and the use of effective cleaning agents. Let's dive in and make your home sparkle! To make the most of it and to be ready for the arrival of the warm weather, what better way than to do some spring-cleaning?
If you're feeling unsure of where to begin, our Spring Cleaning Checklist is a helpful tool to get you started.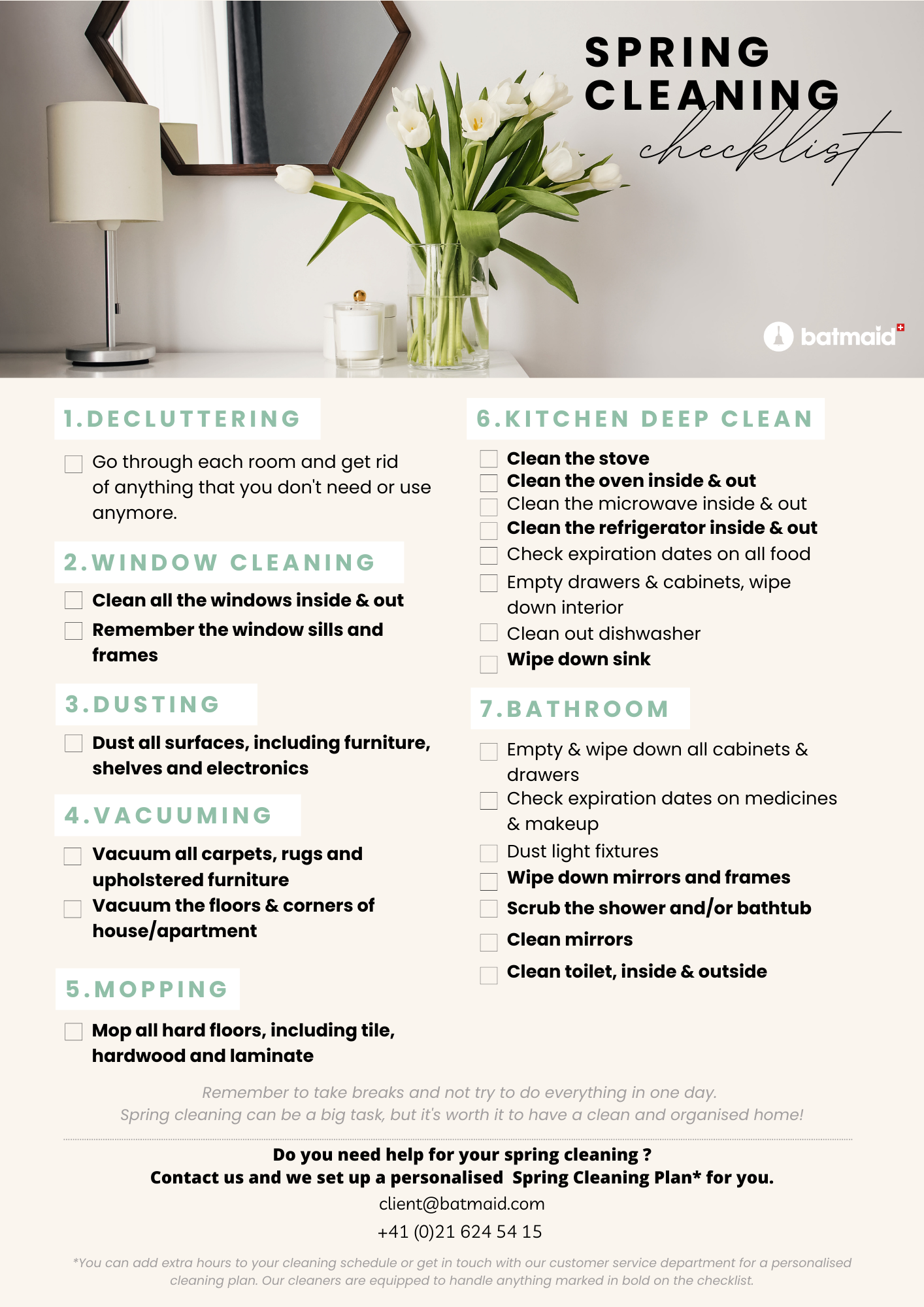 Discover some helpful tips and tricks to keep in mind while tackling your spring cleaning tasks.
Clean your carpets :
Start by vacuuming to remove most of the dust. Next, pour soda water on the carpet and scrub gently with a brush. Once dry, sprinkle with baking soda. When the baking soda has dried out, vacuum again.
Alternatively, you can apply shaving foam to your carpet and leave it on for at least an hour, before rubbing it with a sponge. Shaving foam removes stains from textiles easily and effectively!
Please note that we recommend that you always test on a non-prominent part of the carpet before cleaning it completely. This way, you can make sure that it does not damage your entire carpet should something untoward occur.
Discover one of our favorite tips & tricks to clean the carpet :
Clean your window : First, we advise you to clean your windows when the weather is cloudy. If it's sunny outside your windows will dry too quickly, which could leave stains on them. Using a sponge, clean your windows from top to bottom or from left to right. For a thorough cleaning, mix ¾ litre of water, ¼ litre of vinegar and a few drops of essential oils. Pour this mixture into a spray bottle and get going! Watch our Batmaid expert demonstrates the dos and dont's of window cleaning to make your home shine this season : !
Descale your bathroom : To effectively descale your bathroom, soak a sponge in a mixture of salt and vinegar, then scrub away the limescale. To clean your grouts, simply mix together white vinegar and add a tablespoon of washing-up liquid in a bowl. Scrub with an old toothbrush soaked in the mixture to remove the stains. Leave it to act for about 15 minutes and then rinse with water. Discover how you can clean naturally a bathroom :
If you're not feeling up to tackling spring cleaning on your own, why not leave it to our team of professional cleaners? With our services, you can enjoy the benefits of a clean and organized home without having to lift a finger. This frees up your time to enjoy the beautiful spring weather and have peace of mind knowing that your home is in good hands.