Cleaning lady registration in Switzerland
Batmaid
May 23rd at 3:42pm
In Switzerland, domestic work is subject to laws requiring that every cleaning lady must be declared by its employer. Declaring a maid is a painstaking task but necessary to her safety and the one of the employer. It protects both sides from untoward events and severe penalties.
What is a cleaning lady's registration
The declaration is to inform the relevant institutions that a person works for you or your company, and it allows you to pay the employee's contributions to the dedicated funds. Paid but undeclared work is an offense related to moonlighting. (see link)
To learn more about the black market in the cleaning industry, you can read our article on the consequences of undeclared work in Switzerland.
Why register a cleaning lady
Thanks to the declaration, the person acting as employer remains in a legal position. Besides, being registered enables the cleaning lady to benefit from social security (retirement, health insurance…).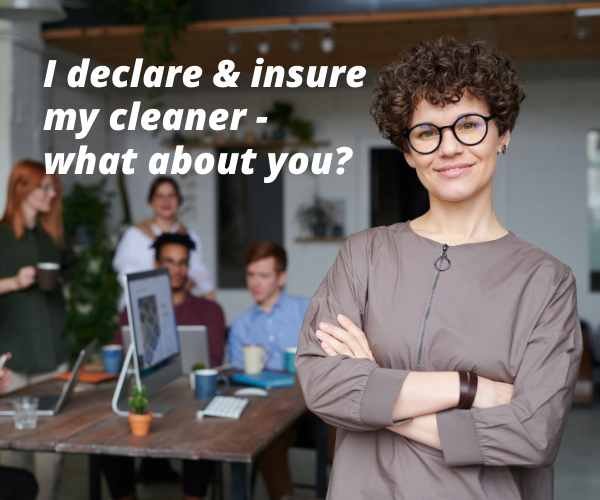 Penalties for illegal employment in Switzerland
What are the penalties for moonlighting?
As moonlighting is prohibited by law in Switzerland, engaging a moonlighter is reprehensible. At best, the employer can receive a severe fine.
If the competent authorities learn that an employee has been working illegally for two years, the employer will have to pay the old-age and survivors insurance (OASI) corresponding to these two unreported years.
In the event of work accident, a non-declared house cleaner isn't covered by social security. The cleaning lady won't receive any help covering medical expenses.
In the event of material damages such as a TV or coffee table damaged, the management of it would be the responsibility of the customer.
The list of risks with moonlighting goes on…
How to register a cleaning lady in Switzerland
To declare a cleaning lady, some administrative procedures must be carried out with the relevant cantonal authority.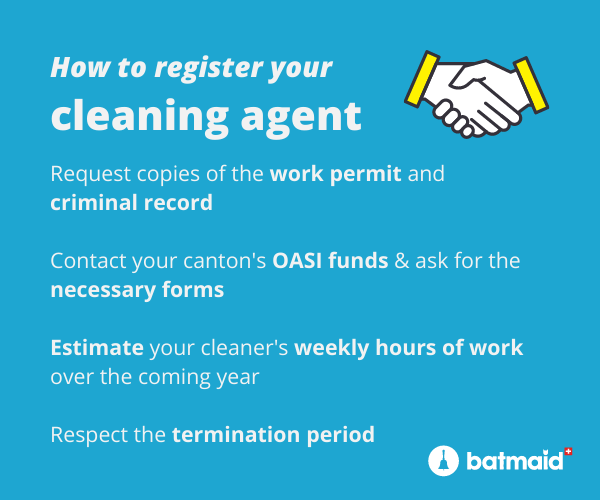 First, you need to know if your maid is entitled to work in Switzerland and in your canton of residence. Does she have a work permit? A long term (B permit) or short term (L permit) one?
Then, the house cleaner's criminal record must be checked to ensure that there is no history of theft, etc. ...
As an employer, you need to contact the old-age and survivors' insurance (OASI) funds in your canton and ask for the necessary forms to register your maid.
Once you have completed the necessary information and estimated the cleaning lady's weekly hours of work over the coming year, you need copies of her ID and to complete cards with her name. address, date of birth, etc. ...
At the end of the year, after having calculated the amount of the taxes and insurances corresponding to the wages earned by your cleaning lady, the OASI funds will send you an invoice that you will have to double check before paying it.
Note that it is mandatory to pay the house cleaner's vacation days.
If you decide to terminate the agreement with your cleaning lady, you need to inform the relevant institution to stop receiving invoices linked to her employment. This process is time-consuming and laborious for those uncomfortable with administrative tasks: time saved on the house cleaning can quickly be used for paperwork.
Batmaid registers your cleaning lady for you
Batmaid's main mission is to fight against a black market that plagues the world of domestic work and help you to enjoy your free time. By resorting to the batmaids, you won't have to use your vacuum anymore nor waste time with paperwork.
We take care of everything for you and your cleaning lady. To find out more regarding the benefits that our Batmaids are entitled to, read our article on the salaries of cleaning ladies in Switzerland.