The consequences of the black market in the cleaning industry
Batmaid
April 29th at 1:23pm
According to estimates, in Switzerland the number of undeclared employees (all fields combined) is around 460'000 people, working full-time illegally.
In the cleaning sector, it is estimated that in the country there are nearly 310'000 cleaning agents working, with ¾ being undeclared: 232'500 agents are working illegally and at constant risk on a daily basis.
The consequences of undeclared work for employees
The major disadvantage (and not to be underestimated!) from the employee's point of view is the absence of reimbursement from the insurance companies and financial compensation (salary) in the case of illness and/or accident.
Logically, by not being declared anywhere, the worker does not contribute to his pension either. He will therefore receive a lower pension, even though he will have worked as hard, and for as long as a registered person, who nevertheless ensures a higher pension (about CHF 2023.- per month) by contributing to the OASI (social contributions).
Finally, if a declared person is suddenly unemployed, his or her salary will be covered up to 80% for a certain period of time. On the other hand, an undeclared worker will have their income cut if they stop working, as they will not be entitled to any unemployment benefit...
Simulations
In order to understand better the impact and consequences of undeclared work, we have prepared several simulations illustrating different cases, starting from these bases:
The undeclared worker earns CHF 25.- per hour
The declared worker earns CHF 22.5 gross per hour
The hourly base of work per week is 2 hours, or 8 hours per month
Simulation 1 - The consequences of undeclared work for employers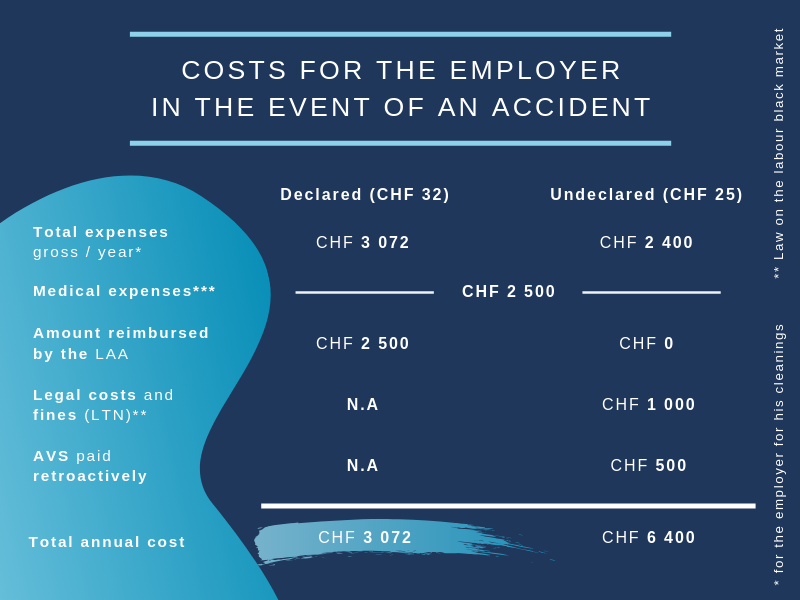 ***CHF 2500.- corresponding to a sprained ankle during a cleaning
In the event of an accident, the accident insurance (LAA, which is mandatory) contracted by the employer normally covers the medical expenses. However, in the illicit work market, it is the employee's personal insurance that will take care of it, but which will then turn against the employer for illegal practices, in order to have him reimburse all the expenses incurred.
The risks can also be material: in the event of theft, it is risky to file a complaint against the undeclared employee, because it is impossible to justify the reason for his or her presence in the home... And in the event of a damage, there is little chance of any reimbursement whatsoever.
Simulation 2 - The consequences of undeclared work for the State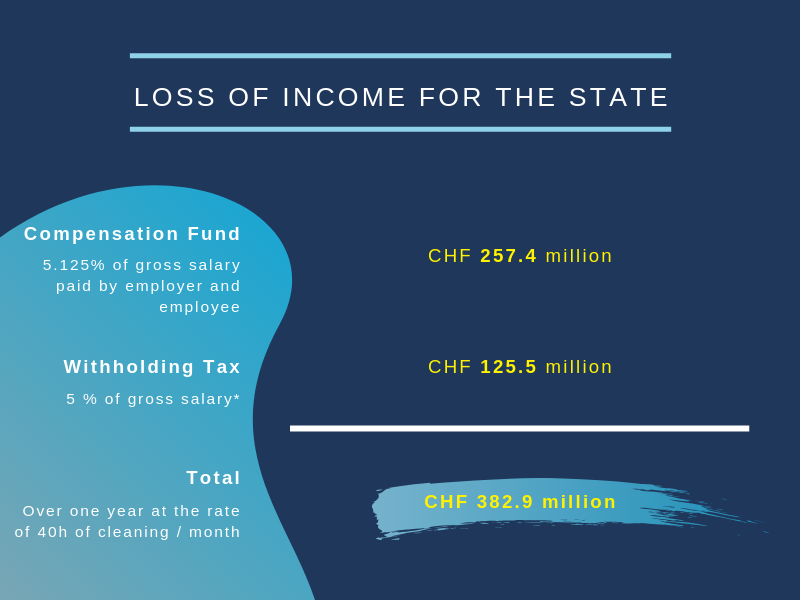 * according to the rate of the Simplified Declaration Procedure
Since an employee who works illegally does not contribute anywhere, the State does not collect either the money for withholding tax or social contributions.
For withholding tax, an amount of nearly 125 million Swiss francs (1) is being lost: an amount that would be needed to finance, for example, 8 wind turbines, which alone would supply 15,000 to 20,000 households in Lausanne.
By isolating the OASI only, it is a total of 257.4 million (2) "lost" Swiss francs, preventing more than 10,603 people (3) from receiving much-needed pensions...
How Batmaid addresses the problem of undeclared work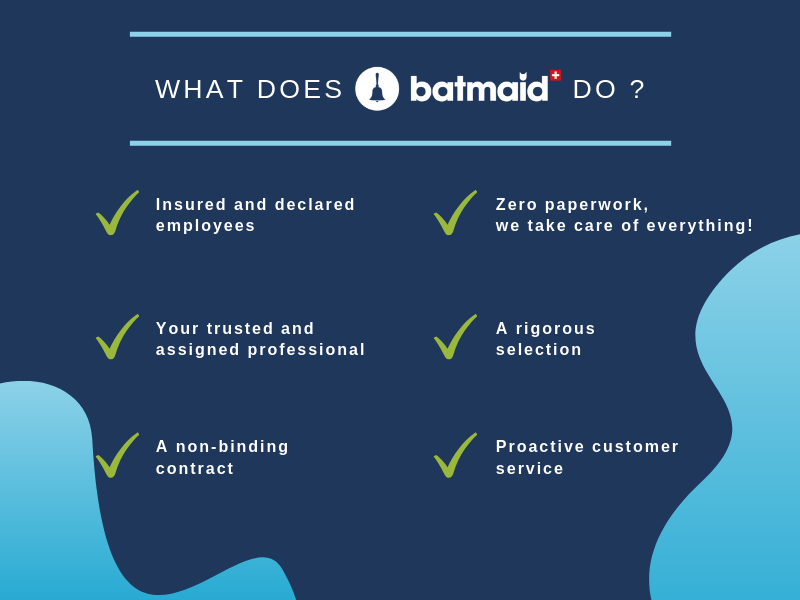 How can we solve this real plague, you may ask? Well, it's very simple: by hiring insured and declared cleaning staff.
At Batmaid, we make it much easier for employers: we take care of all the declarations for them!
In 4 years of existence, Batmaid has taken more than 2'000 cleaning agents out of the black labour market, who are now insured and registered, and work safely throughout Switzerland.
Join the fight, and help us to overcome moonlighting!
---
(1) On the basis of CHF 22.5 Gross/hour and 8h/week (i.e. 480h/year), and 232,500 employees concerned: 232,500 22.5 480 5% = CHF 125,550 million
(2) On the basis of CHF 22.5 Gross/hour and 8h/week (i.e. 480h/year), and 232,500 illegal workers: 232,500 22.5 480 5.125% 2 = CHF 257,400 million
(3) On the basis of a monthly pension of CHF 2,023: 257,400 million / (2,023 12) = 10,603 pensioners