How to get your kitchen organized
Batmaid
June 3rd at 3:02pm
A room as functional and used as the kitchen must be optimized to find its way around. Batmaid offers you some simple tips to organize your storage easily.
Sort and clean your cupboards
Any good organization begins with a careful selection. Start by emptying your cupboards. Then meticulously sort out what you use every day, ranging from time to time to never. Is that all right?
All done? Good, let's keep going.
Anything you no longer use can be recycled, donated or sold. If you want to recycle your electronic devices, you should know that retailers are obliged to collect them. Yes, we're thinking about that old toaster that has been hanging around in the back of your cupboards for decades…
By the way, if you are interested in recycling, read our special guide with infographics on the topic.
Once your cupboards are empty, it's time to clean them. To do so, simply soak a microfiber cloth in a mixture of water and white vinegar, and rub. The stains will disappear like magic. Need other quick cleaning tips? You can find some in our article on how to clean your kitchen in 20 minutes.
For additional tips on how to organize your pantry, follow the steps in the following video:


Organize your kitchen
Once your equipment, dishes and everything in your kitchen have been sorted and your cupboards cleaned, it's time to determine the different areas of your kitchen. "Where do I cook? Where do I keep my food? Where's my coffee corner?" These questions will make it easier for you to organize your kitchen. Remember, everything you need for your daily life must be within reach or sight!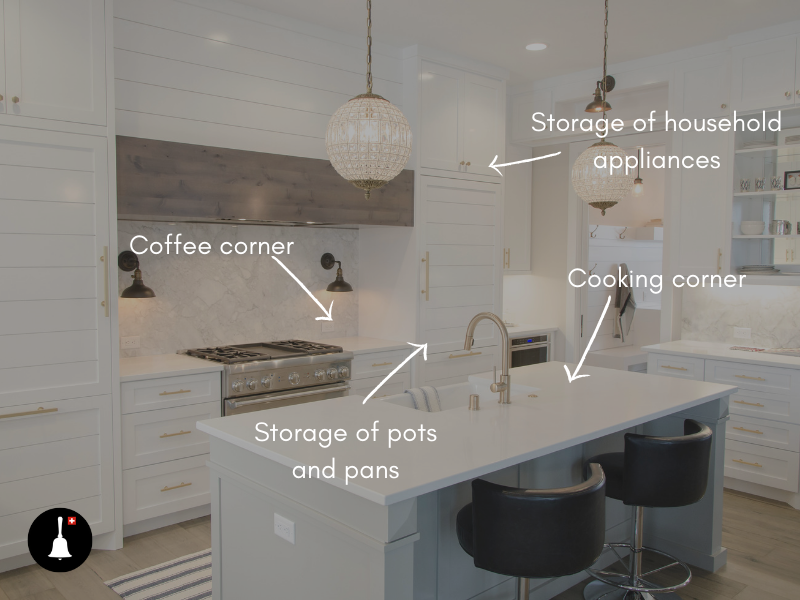 A little tip! If you want to avoid your kitchen smelling bad, you can place scented bags in drawers and cabinets. Simply place your favorite spices and herbs in a small cotton bag and close it tightly. Simply change the spices or replace the bag when it's not effective anymore! If you're not a fan of spices, you can fill a small bag with baking soda: this will absorb your kitchen's bad smells without emanating any particular fragrance.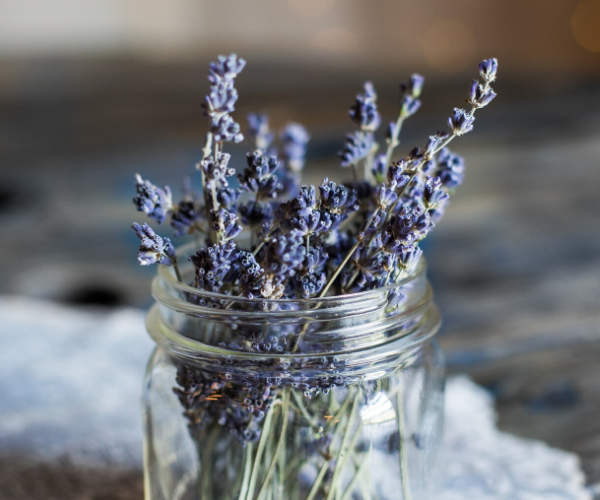 Did you know that? Some herbs have magical abilities! They naturally repel insects. Among these are: eucalyptus, tea tree or lemon essential oils...
To read our article on the benefits of essential oils, click here.
Let's get back to business now, are you ready to organize your kitchen efficiently?
Start by grouping similar items, like glasses with glasses, plates with plates, and so on, then place them according to the setup you've chosen.
Don't hesitate to buy small organizers to store your knives, forks and spoons. If possible, go for wood, which is more durable than plastic. Next to your kitchen corner, it may be useful to place a small jar for kitchen utensils that you use often, such as spatulas, wooden spoons, and so on.
An easy trick is to install a magnetic strip to keep your kitchen knives within easy reach at all times!
Consider a magazine rack for pot lids, since they often take up more space than we'd like.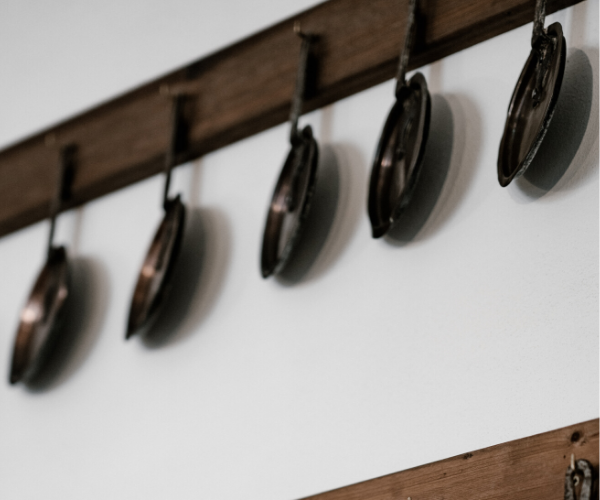 In order to preserve and organize your food, use glass jars. It works well for pasta, rice, flour, cereals, legumes, and so on. In addition to the trendy effect, the products will stay fresh much longer!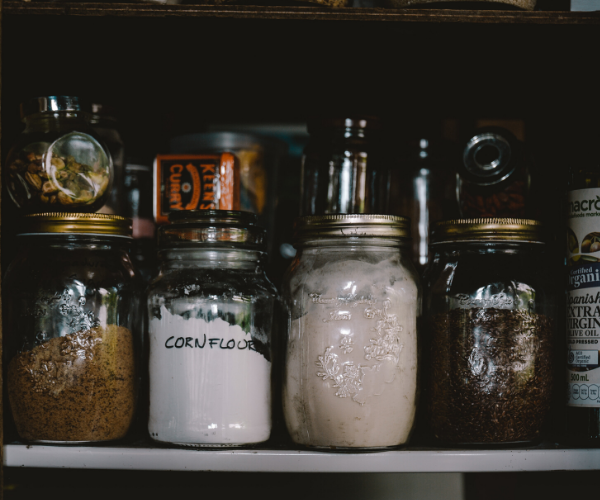 To keep your cooking surface clean, staining products like honey or oil can be placed in a wooden tray.
Also consider keeping your potatoes, onions and garlic cloves in small baskets to store them and reduce plastic.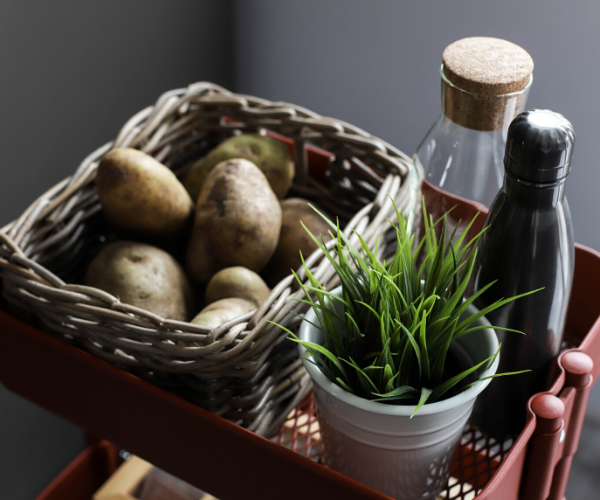 A trick that we love at Batmaid, both for its practical and visual aspects, is to hang your most beautiful teacups or your prettiest pots. In addition to highlighting them, you will have easy access, and this will save a little space in your cupboards.
Are you a fan of snacks of all kinds? Chocolate, chips, sweets? So are we! To always have them handy for movie time, all you have to do is install an organisation rack inside the door of a closet. Ingenious, isn't it?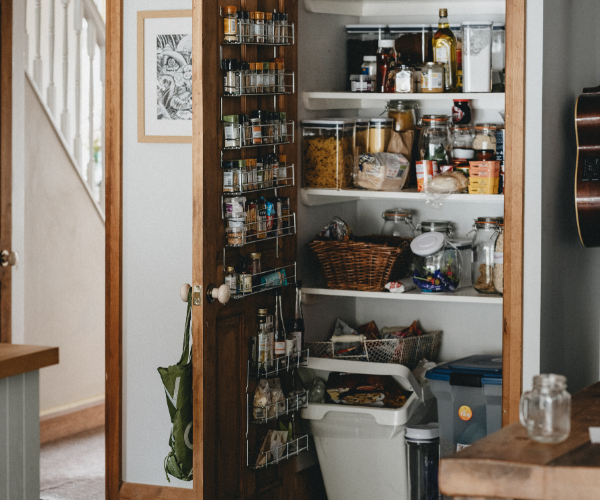 And for small kitchens
Is your kitchen a little small? Do you have trouble finding space despite the sorting? No worries, we also have tips for you! Use a small open bookcase or cart to store your dishes, services and glasses. If you have some space left, you can even put your bread or a fruit basket in it.
Add a natural touch with green plants
Go green! Add plants! This little extra will be a great visual asset in your kitchen and will naturally clean up your home. Mint, Boston fern or Peace Lily have interesting natural properties for your kitchen. These plants have the ability to absorb unpleasant smells and purify the air. Also, prefer plants that require little care. Cacti are a very good example of trendy decorative plants that adapt easily to indoor conditions and require almost no maintenance.