How to clean a mattress
Batmaid
January 17th at 5:24pm
Did you know that your mattress has a lifespan of about 10 years? That's the equivalent of 3,650 nights, or nearly 30,000 hours of use... Pretty impressive, isn't it?
Of course, your mattress has a long-life expectancy compared to other objects in the house, but that doesn't mean you should neglect it!
To help out, Batmaid is offering you a quick maintenance guide to clean your mattress all by yourself with ease.
When to clean a mattress
It would seem common sense that a good time to clean your mattress is after any illness, but that isn't the only time it might need freshening up. The best way to keep dust mites at bay is to regularly vacuum your mattress and give it some air. If they are persistent, spray a mixture of water and clove or eucalyptus essential oil on your mattress to get them to vacate the premises! Find out more tips and tricks for defeating dust mites in one of our previous articles.
Did you know? Most mattresses have two sides: a side for summer and one for winter. The filling is thicker on one side to keep you warmer during the cold winter months and the opposite can be said for the other side, allowing for more air to circulate through and keep you cool for the summer!
How to clean a mattress
The rule of thumb when it comes to cleaning mattresses is to never use too much water. Mattresses are very poorly suited to being wet as it is so hard to dry them thoroughly. If the water can't dry out properly, this leads to dampness in the fabric which then leads to mold and even fungus growth.
Traditional mattress
For a traditional mattress, vacuum both sides regularly, once a month. In the event of bad smells, powder down a thin layer of baking soda to absorb them, leave for 5-6 hours and then vacuum your mattress. You can say goodbye to foul smells!
If baking soda isn't doing the trick, time for the big guns: concocting a special mattress spray! To make it you will need:
500ml of vinegar
200ml of warm water
2 tablespoons of dishwashing liquid
Mix all the ingredients listed above together in a spray bottle and give your mattress a good spray. Leave it to work for a while before rinsing it off with a damp washcloth and setting it out in the sun to dry.
Latex mattress
Latex mattresses are the most delicate. Simply moisten them with a little water and natural soap. Rinse it off with a damp cloth and make sure to dry it indoors as direct sunlight can damage its structure.
Memory foam mattresses
Memory foam mattresses may seem more difficult to maintain but taking care of them is actually quite easy! Just like the other types of mattresses, you should remember to vacuum both sides from time to time. If you're looking for a deeper clean, a spray made from a mix of vinegar and water will do the trick. Gently spray the entire surface of the mattress before leaving it out to dry in the sunlight.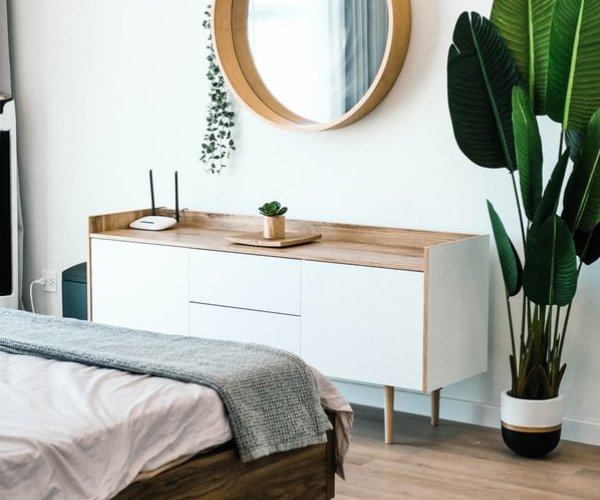 How to remove a stain from a mattress
Even if you're regular and meticulous with your mattress care, no one is ever safe from an accidental stain. After all, these things can happen too easily. Have no fear though, our cheat sheet guide will help you navigate through any eventuality.
Foodstuff stains
Mix 1/4 detergent, 1/4 vinegar and finish with 2/4 water. Brush the affected area and leave the mixture to act for 15 minutes before rinsing with a damp cloth.
Urine stains
Prepare a spray with 120ml of hydrogen peroxide, 1 drop of washing up liquid, 3 spoonfuls of baking soda and a drop of your choice of essential oil. Let it work its magic before hoovering up the leftover residue.
Blood stains
Wash the stain in cold water with black soap, or with vinegar, spiraling inwards. Rinse with a damp cloth and leave to dry.
Water stains
Mix together a paste using 30g of powdered starch, 30g of powdered soap, 15g of iodized salt and 100ml of lemon juice. Spread the paste over the stain and vacuum it away once it has formed a solid exterior crust.
Sweat stains
There are two methods: • Sprinkle some "Terre de Sommières" on the halos, leave it for 2 hours before rubbing and vacuuming, • Sprinkle the stain liberally with baking soda, then rub it with half a lemon. Then rinse your mattress with a damp cloth before drying it.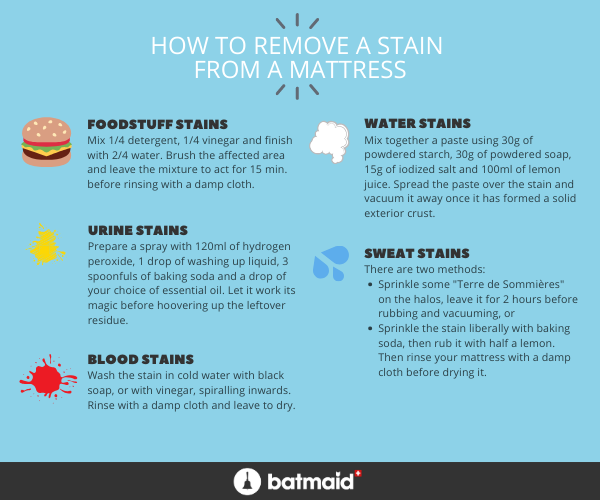 Removing a bad smell from a mattress
As mentioned earlier, the most effective product for dealing with bad odours is baking soda. Sprinkle it liberally over your mattress and leave it on there for 5-6hours before vacuuming it all off. Baking soda is your best friend when it comes to dealing with these kinds of issues, you'll be amazed at the results.
So, there you have it, you're armed and ready to keep your mattress clean and smelling fresh for years to come! If you have any tips of your own in this area of expertise, please to let us know.
Are there any topics in particular that you would like to see us cover? If so, make sure to let us know in the comments, we would love to hear from you!
OTHER TIPS AND TRICKS FOR YOU
If you enjoyed this article, you may be interested in: