How to clean and disinfect a fridge naturally
Batmaid
April 15th at 11:08am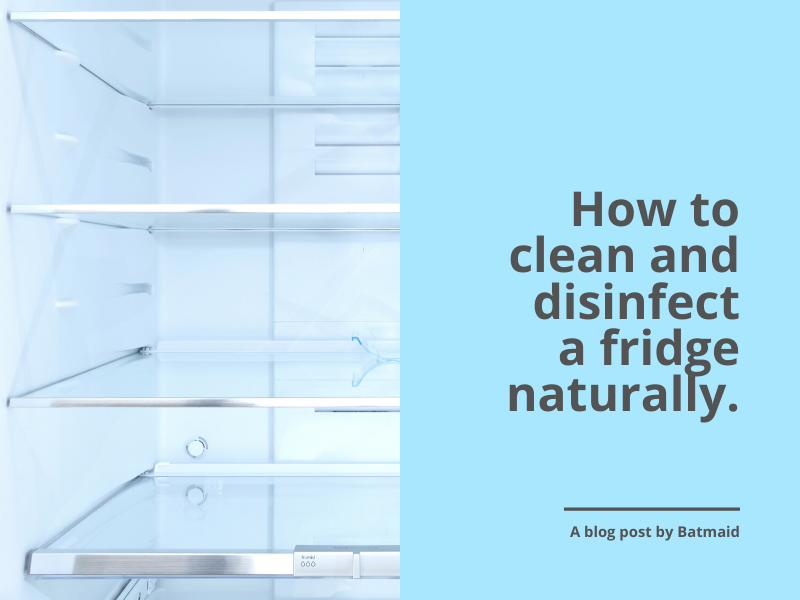 Cleaning your fridge regularly is important to keep it working properly and to avoid the proliferation of bacteria on our food. In this article, Batmaid shows you how to clean yours simply and naturally!
It's true that we don't often take the time to clean our fridge thoroughly, and we definitely should! Before you start the big cleanings, it's important to understand why it's paramount to do so.
Why clean your fridge
Paying attention to expiration dates is important yes, but it isn't enough. To be able to preserve our food properly and slow down the growth of bacteria as much as possible, a fridge needs to be emptied and cleaned regularly.
Which products should be used to clean a fridge?
Since the primary purpose of your fridge is to preserve your food so as not to end up spoiling, we advise you to use 100% natural products to clean it. This way, you will avoid contaminating your food with products that are harmful to your health.
Don't yet have a natural product to clean your fridge? Good timing! Here is a simple recipe you make at home.
Natural Fridge Cleaner Recipe
Making your natural fridge cleaner is simple, you just need hot water, white vinegar and lemon juice.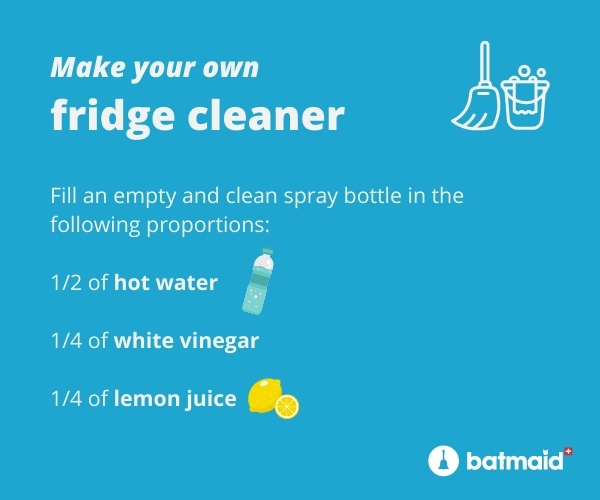 Shake well and it's ready! This mixture will allow you to naturally clean and disinfect the inside of your fridge as well as its various compartments.
How to clean and disinfect your fridge like a pro
Before you start cleaning your fridge, there are some important things to consider!
3 things to do before you clean out your fridge
Put the food in a refrigerator tray while you clean up.
Turn off the refrigerator and wait until it has returned to room temperature.
Take a picture of the fridge to remember where each compartment is located.
When your fridge is empty, turned off and back to room temperature, put on your household gloves, get your cleaning spray and off you go!
Cleaning and disinfecting your fridge in 5 steps
Start by removing all the compartments (grills, glass and bins) from your fridge, and put them in your sink, or on your countertop if you don't have room.
Spray your cleaning and disinfecting product all over the inside of your fridge, leave it on for 15 minutes, then rub with a soft sponge. If stains persist, repeat this step.
Wipe down your fridge with a microfibre cloth moistened with warm water and leave to dry.
In the meantime, clean the racks, windows and bins of your fridge following the same procedure for each compartment: spray your cleaning and disinfecting product all over the surface, leave on for 15 minutes (or less if not necessary), rub with a soft sponge, then rinse under hot water.
Dry your fridge and its compartments with a clean cloth, then put everything back in place.
That's it! Batmaid's tips and tricks for cleaning a fridge naturally hold no secrets for you! What do you think?
If you were interested in this article, read on!