House cleaning products and equipment
Batmaid
September 10th at 4:21pm
The equipment that you need for a good cleaning depends on the areas to be cleaned as well as the initial level of dirt.
Batmaid professionals can attest: good equipment and good cleaning products make the job much easier and more efficient.
We have prepared a list of all the tools you need to perfectly and comfortably clean your home.
1) The essentials
Comfortable clothes
Cleaning is often very challenging, so we recommend you wear your most comfortable clothes to avoid frustration when taking care of your home.
Comfortable indoors shoes
Good shoes allow better mobility. To avoid dirtying what you have just cleaned, it is better to use shoes dedicated to cleaning.
Gloves
Before making use of the equipment, it is essential to protect your hands.
Good waterproof cleaning gloves have several benefits:
They protect hands from products that can damage them
They allow work on very dirty surfaces without any risk
They ensure better grip of slippery objects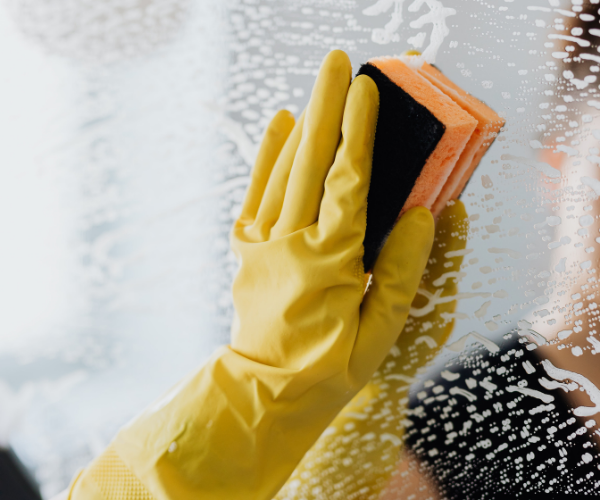 It is recommended to wear a larger size to facilitate removal in case of penetration of a product inside the glove.
Which model of glove to use for cleaning? There are several kinds of gloves, the choice is yours:
Rubber gloves are strong and can be used for several months. However, the thickness of the glove does not allow to carry out some movements.
Disposable latex gloves are the most used due to their elasticity and resistance to chemicals. The fineness of the material allows precise movements and great dexterity.
Nitrile gloves offer an alternative to latex gloves. They are made from natural rubber and have high resistance and protection against chemicals and bacteria. In addition, these gloves are suitable for individuals with latex allergies.
You can find these gloves at our partner LeShop Reference 214540.
Gloves can be handy when dealing with more time-consuming tasks, such as cleaning out your fridge. For more information on the matter, check out our article on how to clean your fridge.
Apron
The apron is essential to avoid dirtying your clothes during the cleaning.
A vacuum
The vacuum cleaner is the most important tool when it comes to cleaning carpets and floors.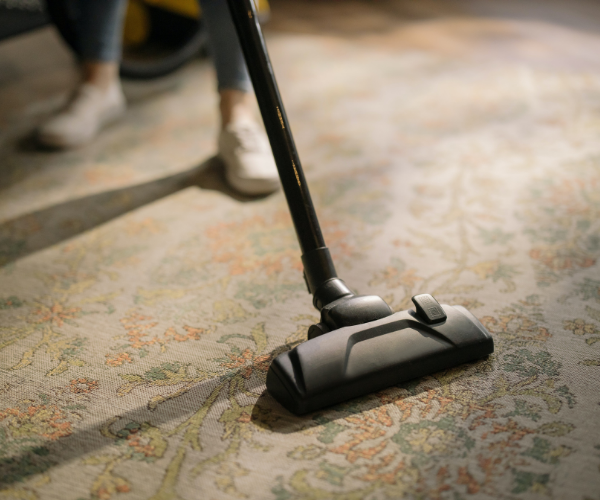 There are several models with different features:
Canister vacuum cleaner: This model represents almost 96% of the market. This is the classic vacuum consisting of a suction head, a flexible handle and a body on wheels. When choosing your vacuum cleaner, it is important to check that the grooves are not too wide, and that the bristles are present on all 4 sides of the brush for better suction power. Among the vacuum cleaners are compact vacuum cleaners weighing up to 5kg. These are practical, but their suction power is lower.
Cans vacuum cleaner: This model is the most powerful and can vacuum liquids, ashes, small rubbish, etc. But its disadvantage is that it is cumbersome.
Upright vacuum cleaner: At first glance, this model is ideal: wireless, no body to carry, no bag. It behaves with a rigid handle at human height. However, this model is expensive and noisy.
Robot vacuum cleaner: This model vacuums by itself. However, it is very expensive, and its performance can be weak.
Vacuum cleaner with or without bag?
The cost of bags must to be considered every year, which is the reason for the invention of bagless models. On the one hand, you can simply throw away a full bag and replace it; on the other, you need to wash the tank. A bagless vacuum cleaner is not recommended for people who suffer from dust allergies, since it exposes you to dust. Once the model is chosen, the most important to consider is the handling and practicality of the device. Also check that accessories are included (a small nozzle for curtains and cushions, a large nozzle for radiators, a furniture brush, etc.)
Bucket and mop
In everyday life, the vacuum cleaner is enough to clean the floor of your house. However, a mop is necessary in the removal of spots or accumulated dirt.
There are several kinds of mops: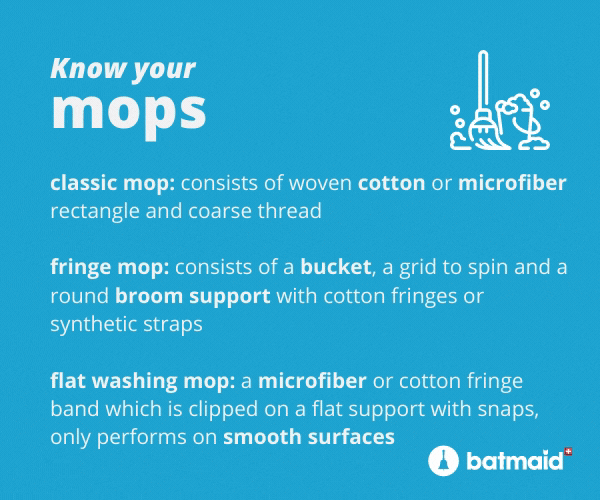 Hand brush and dustpan
They allow to easily pick up dust or detritus. Different sizes of handbrushes and dustpans can be found in stores. Big ones save you from bending down, while small ones have the advantage of not being cumbersome.
Microfiber cloth
Microfiber cloths quickly and efficiently clean smooth surfaces (tables, doors, worktop, tiles, etc.).
Microfiber reduces the amount of water and cleaning products during the cleaning. This material is 50 times smaller than cotton fiber, and effectively captures dirt everywhere while absorbing a superior quantity of water. Quality microfiber reduces the expenses of cleaning products and cloths.
Microfiber is composed of polyamide (absorption of dirt and water) and polyester (cleaner). Used without water, it is the friction effect that allows the microfibers to charge positively and attract dust.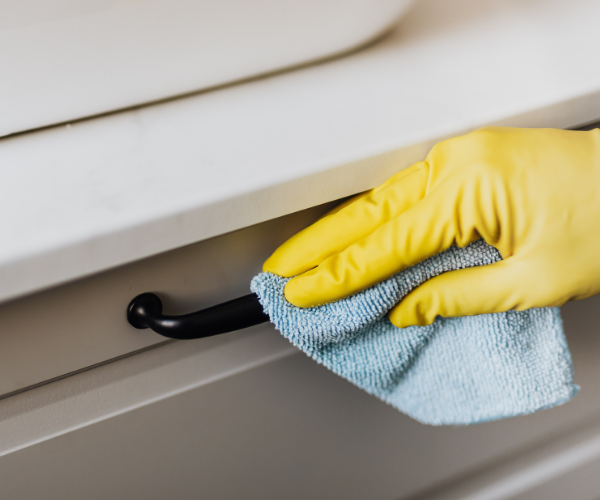 With the use of cleaning products and/or water, it is necessary to favour a microfiber cloth that has a significant percentage of polyamide (about 30%).
Soft / Scouring sponges
There are several types of sponges:
The synthetic sponge made of resin foam does not have small irregular holes like the sponge of natural origin: It can be rinsed easily and does not mold or keep bad smells. It often has a scratchy face to remove heavy dirt. It is however less absorbent and resistant than a synthetic sponge of vegetable origin.
The synthetic sponge of vegetable origin is very resistant, washable in the washing machine, and does not decay. However, this sponge often keeps bad smells.
Metal sponges are used for scouring stubborn stains. They come in the form of steel wool.
Your choice of sponge is important when it comes to scrubbing down your household appliances, even more so when it comes to your oven. To learn more, read our blog post on how to clean your oven.
WC detergent, descaling and disinfectant
Detergent allows for the removal of grease and other dirt. Detergents are composed of:
Water
Surfactants (which create bond cleavage between the dirt and the surface of the material)
Adjuvants (foaming products or not, descaling, bactericidal, etc.) There are lots of detergents such as white vinegar, bleach, white spirit, disinfectants, descaling agents, etc.
However, most detergents are harmful to the environment. Let's not forget that these products end up in our pipes. It is very possible to clean your house while respecting the environment by opting for soap detergents or plant-based surfactants such as the products of Body Nature. You also find a multitude of ecological products at our partner LeShop.
It is also easy to make your own detergent, simply mix the following ingredients together: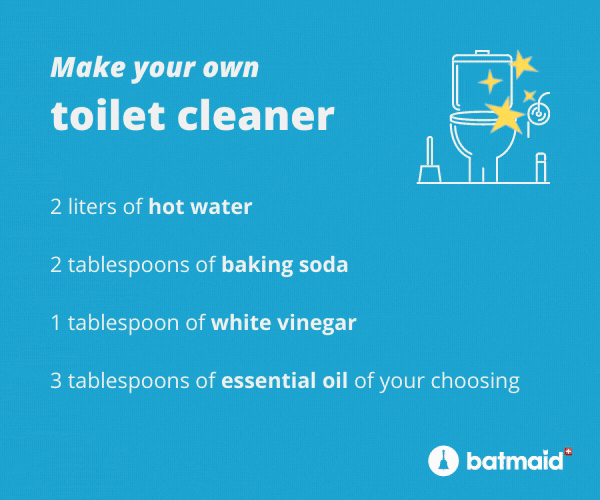 Feather duster
This magical instrument catches dust in every corner! It is ideal to clean furniture with small embellishment.
The best feather dusters are usually those made of real feathers (quite expensive) or those in synthetic fibers.
Wipes
Wipes are tissues soaked with cleaning products. They can be used in many situations (surfaces, WC, floors, etc.) and are thrown away after each use. However, wipes are not very respectful of the environment since they are not reusable, and therefore create a big mass of waste.
2) Specific cleaning
Stripper for the oven
When fats accumulate and roast in the oven, it is necessary to use a stripper. It degreases the interior walls of the oven, the glass door, the grids, etc. The product acts for 30min to 1h. Then just rinse it.
Product references 3089790 at LeShop.
Laundry detergent
Laundry is obviously essential to clean the linen. It can be bought in powder, capsule or liquid form. Efficiency is often the same between these three forms.
Find at LeShop a laundry product with natural soda: Product reference 216460.
Chamois leather
The natural chamois leather makes it possible to dry smooth surfaces without leaving traces.
Window squeegee
The window squeegee helps prevent marks on your tiles.
The size of the squeegee depends on the size of your windows. The wider the squeegee, the faster the wash.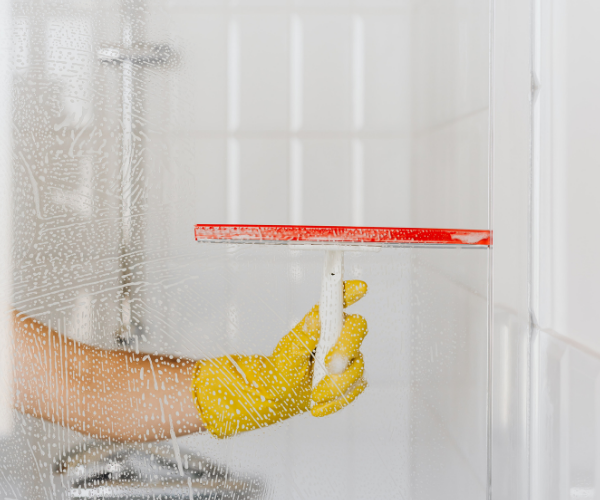 If you want to know how to clean your windows in three easy steps, click here.
There are also electric window washers that can clean the windows in a single pass without leaving a trace. This very effective tool is available from our partner LeShop, product reference 225176.
More useful cleaning tips for you
Check out our other blog articles, compiled by Batmaid for you: