Introducing François: Head of Administration
Batmaid
March 22nd at 9:16pm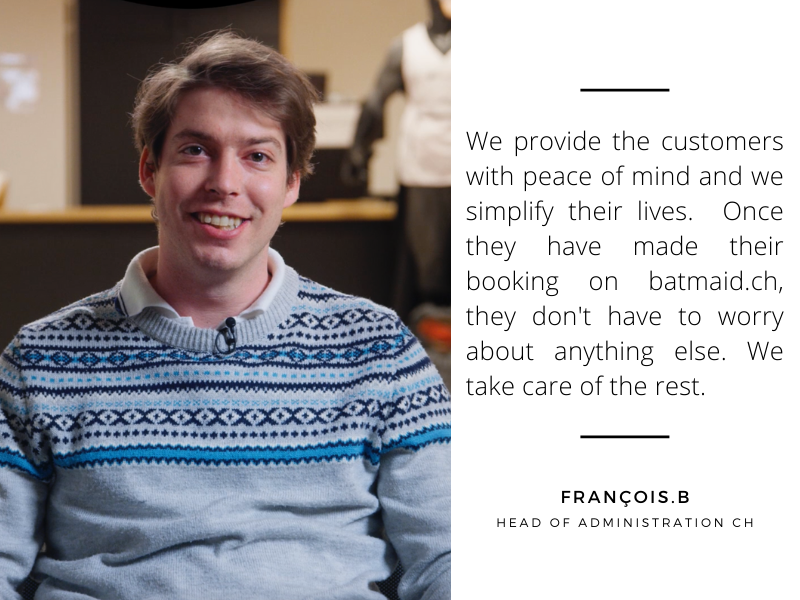 As the Head of Administration, François.B is responsible for the administration of all the group's entities, namely Batmaid, Batsoft and Batwork.
He has been with Batmaid for more than two years. And since then, he has been able to adapt to the evolution of the company: from a fiduciary company that put cleaning agents in touch with private individuals to a cleaning company that employs cleaning professionals, the administrative work has evolved at great speed, as has François' position, who has climbed the professional ladder over the years.
And today, we got to learn more about him!
What do you do in admin?
So the administration department is divided into two parts: one part is responsible for the customers and the second part is in charge of the cleaning agents. And from one part to the other, the work changes a lot. Indeed, the two do not have the same needs or the same requests, so the work in administration at Batmaid varies enormously!
So as far as the clients are concerned, we are there every day to clear their heads and do all the paperwork for them. And in my opinion, I think we give clients a lot more than just dealing with their administrative paperwork. We provide them with peace of mind, and we simplify their lives because once they have made their booking on batmaid.ch, they don't have to worry about anything else. We are here to ensure that everything is done according to the laws.
And for the Batmaids, we are present daily to help them as much as possible with all their administrative procedures, to pay their salary, of course, and to send them their salary slip in due time. They know they can count on us daily, and they can call us anytime in case of questions, for example, to know which office to call if they have a specific question.
What do you love about your job?
So what I'm passionate about in my job, and what also motivated me to join a company like Batmaid, is the opportunity to answer the needs of the cleaning professionals and the customers daily.
But it's really about helping the agents navigate through all the paperwork they might be asked to do, such as unemployment, child benefit or any other related paperwork. It's not always easy to find your way around, and my team and I are always there to make their lives easier!
What is the most important thing about your job?
The most crucial part of this job is really to be meticulous. You have to constantly pay great attention to detail because we declare salaries to many contribution funds in different Cantons in Switzerland. We can't afford to make any mistakes! So everything has to be done carefully and correctly.