Introducing Faly: a fascinating Batmaid
Batmaid
March 22nd at 9:16pm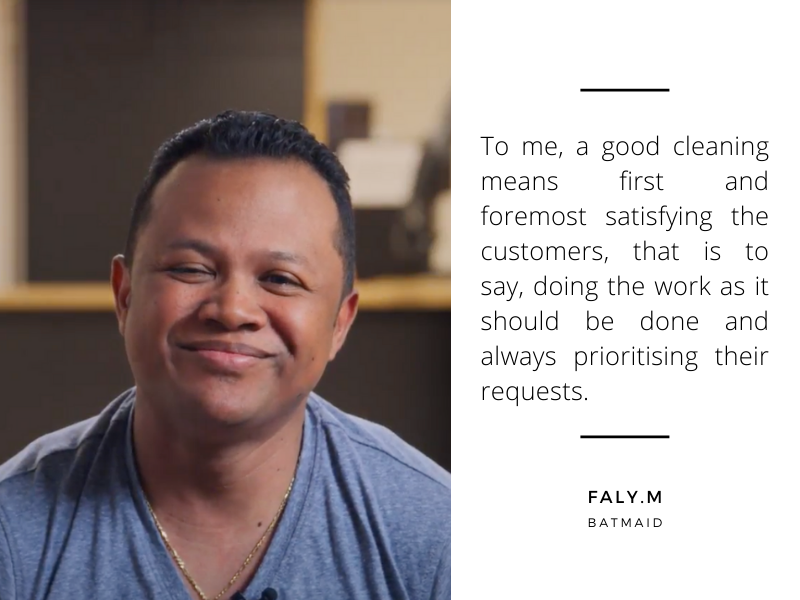 His first steps in front of the camera were shy. He describes himself as a field agent, who is not comfortable in front of the camera, but once he felt at ease, Faly shared many exciting stories with us, each one of them more interesting than the last!
A very conscientious and meticulous Batmaid, he is always very attentive to customers' feedback for the purpose of giving them complete satisfaction regarding the work done. And today, it was with great curiosity and attention that we listened to him talk about his work.
What does it mean to you to be a Batmaid?
Being a Batmaid for me is, first and foremost, a matter of pride, and I am proud to be part of this company. But more than that, it also gives me confidence, because when I put on my Batmaid apron and head to the customers' homes, I always come out of the cleanings feeling confident because they are always delighted with the results of my work. So it's really a matter of pride, pride brought by the confidence and the trust the customers and the company place in me.
According to you, what can we consider a well-performed cleaning?
To me, a good cleaning means first and foremost satisfying the customers, that is to say, doing the work as it should be done and always prioritising their requests.
But it also means being able to listen, adapt and accept comments and remarks: a good cleaning can only be well executed if you are open to comments. So I am always ready to improve, go beyond, and correct certain things to satisfy the customers fully. And it's thanks to good communication with the customer that we can achieve this!
Secondly, it's also thanks to technique, expertise and knowledge of the job, knowing how to clean a particular thing, paying attention to detail. And since I joined Batmaid two years ago, I know that I have only improved thanks to the feedback provided by the company and the customers!
Why did you choose to be employed by Batmaid?
So before I started under the new Batmaid contract (ed. note: where we are the employer of the cleaning professionals), I first wanted to know my customers' opinion, the choice they would make between Batmaid and Batsoft. These customers also came to me and asked about my opinion regarding the future models. So I told them that I wanted to choose the new contract offered by Batmaid, and most of them agreed to follow me on Batmaid!
That's why today I still work with the same clients, and I'm pleased about that!
But the reason I chose to work for Batmaid in the first place was simply because of the flexibility the company offers. When I started working with Batmaid, it was primarily to complete my working hours as I had another small job on the side, and it was this flexibility that allowed me to juggle the two jobs efficiently!