3 ways to actually enjoy the holidays
Batmaid
December 9th at 2:27pm
Christmas is fast approaching and with it the infamous Holiday-pressure. Well, worry no more, Batmaid has compiled a list of 3 simple ways you can actually enjoy the Holidays!
1) Don't fret over decorating, focus on the senses
Holiday decor is lovely indeed, but it requires money, time and effort. Don't worry if your home doesn't look like a picture in a catalogue! When it comes to a Christmas mood, the things everyone remembers most are the smell, taste and sound of Christmas.
Indulge in a Christmas mood by:
Making some hot chocolate
Preparing your own Christmas tea by letting cinnamon sticks, oranges, ginger and other spices of your choice simmer in a pot - your home will smell like Christmas in no time!
Baking some easy cookies - no need to impress anyone with complicated recipes!
Putting on some festive music and just… relaxing!
Batmaid's simple cookie recommendation: Elle Republic's Spelt & Lemon Butter Cookies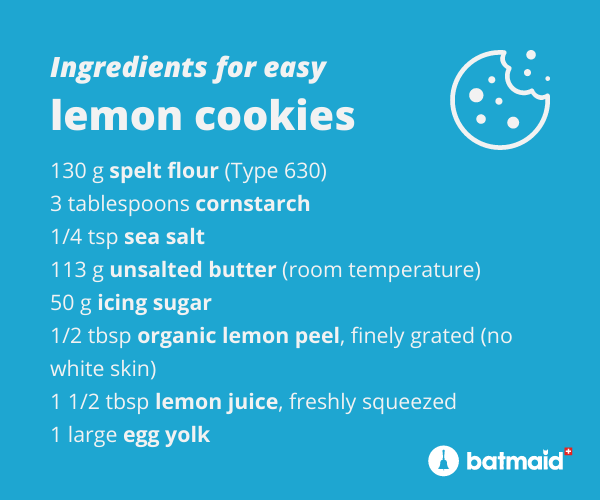 Mix flour, cornstarch and salt in a bowl and set aside.
Mix butter, icing sugar and lemon peel until light and fluffy.
Add lemon juice and egg yolk.
Add the dry mixture portionwise while mixing the dough at a slow speed.
Halve the dough, making two long rolls with a diameter of 4 cm. Wrap in plastic wrap and refrigerate for at least 2 hours or overnight.
Preheat the oven to 175° C. Cut the dough into approx. 0.5 cm thick slices. Place on a baking sheet and bake for 12 - 17 minutes or until golden (not brown!). Dust with powdered sugar when the cookies are still warm.
Enjoy with a good tea and in pleasant company.
2) Create memories, not picture-perfect tablescapes and Christmas trees
We'll be the first to say it: There's no way a normal person with a busy day-to-day schedule can recreate those perfect Christmas images we see on Instagram. Unless you're willing to give up on sleeping… Instead, focus on spending time with family and friends.
If you still wish to decorate your home to help you get in the spirit of Christmas, try this easy recipe for drying orange slices. It doesn't require a lot of effort, just a little patience: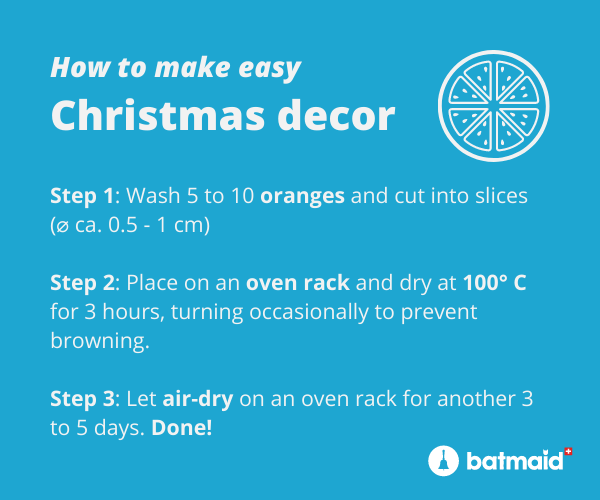 Once you have your dried orange slices, you can thread a ribbon through them and turn them into ornaments. The orange hues will add a lovely pop of colour to your Christmas tree. Or simply scatter them across your table for a simple yet effective tablescape.
3) Hire a professional cleaner and enjoy your free time!
Well, in our humble opinion, this one is a no-brainer 😉 With Batmaid, you can enjoy a clean home and spend your time doing what you actually enjoy. Hire your cleaner in as little as 48 hours!
Did you enjoy this blog article?
We're happy to provide you with more reading material!