About
Batmaid is the first on-demand home cleaning platform in Switzerland.
Batmaid offers a 2-in-1 cleaning service to make your life easier:
The high standard selection of trusted professional home cleaners
A trust service whereby your employee is legally declared and insured
The user-friendly platform enables a quick & easy booking for just once or with a frequency. By default, the same preferred Batmaid will show up. In case she is absent, you would have the choice between skipping your cleaning or asking for another Batmaid to replace her.
Find your trusted cleaning maid available at your doorstep in a few clicks!
No paperwork anymore! Your cleaner is automatically declared and insured on your behalf!
Watch the full Batmaid video motion here. A few seconds to understand Batmaid!
How are Batmaid professionals selected?
The demanding selection process for cleaner candidates has been held to the highest trust standards - we retain only 3% of applicants - and consists in:
A preliminary online application where we check if the applicant meets all conditions
A 1st round interview when we check again all legal papers such as copies of police records, valid work permit along references & background checks
A 2nd round when our specialized Batmaid Team tests high standard cleaning skills and execution quality
Then, we open the platform to successful candidates only who become the "Batmaids", a unique class of top-notch cleaners. They indicate on the platform their availabilities & areas they would be happy to work in and wait for employing households to hire them for once or with a chosen frequency.Our platform makes their work opportunities easier to manage and for clients an easier booking!
To check what's included in your cleaning service, click here.
What are the advantages of the Batmaid model compared to competition?
The unique Batmaid model makes it possible to pay housekeepers the highest wages on the market, while offering the lowest prices possible for customers.

Yes, Batmaid is indeed the most competitive home cleaning company in Switzerland.

Paying less would imply using the black market - against which we fight hard everyday - estimated at 80% of the home cleaning market, which pollutes the domestic economy and represents a real risk for Swiss households. With Batmaid, for a few francs more per hour, you have access to a quality, reliable, fully digitized service and you have access to our network of declared and insured maids available next to you... all these in a few clicks ...
How does the employee declaration work?
On your side: after your booking, you just have to relax. We just ask you to sign the Trust Mandate authorizing us to proceed with the declaration of your employee and payment of social security contributions.
On Batmaid' side: Hard work! We do:
Legal declaration to the AHV(AVS) of the new employment relationship
Payment of the cleaner's salary made by client through its Batmaid account
Payment of all social security contributions AHV/IV/EO (AVS/AI/APG) - related to the number of worked hours
Payment of employee's withholding tax
Payment of the Generali LAA accident insurance on behalf of the employer
Issuance of monthly pay slips, annual wage payroll statements
Issuance of contract of employment between client and selected Batmaid cleaner
You won't have to pay for more - all is included in the price displayed online.
The Batmaid Co-founders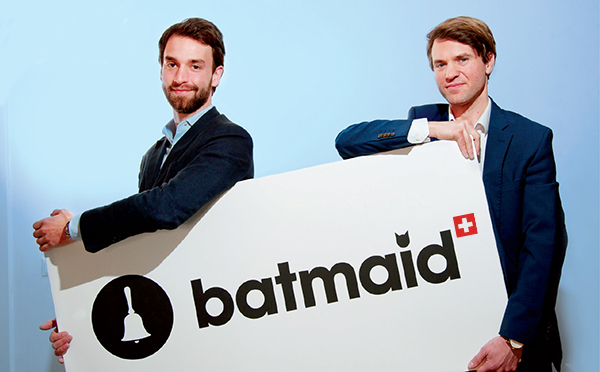 Andreas Schollin-Borg & Eric Laudet
Andreas and Eric are Vanguard Internet SA (Batmaid.com) co-founders. They partnered up notably to set up Batmaid, the first on-demand home cleaning platform in Switzerland and Luxembourg. Before this partnership, they both worked in commodity trading and graduated with Masters from renowned Business Schools.

Value your time!